How to save a damaged flag and preserve its message for the future?
Proper professional care not only restores banner's original color and luster, but also extends its lifetime. There are more than a few ways to save a banner "worn-out" by the years.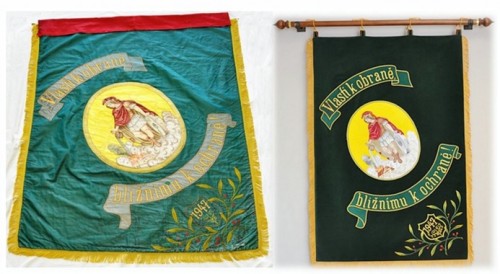 Basic conservation
It is essentially the most delicate mechanical cleaning, through which the restorer cleans the banner of tiny dust particles with vacuuming and a small brush. Depending on the extent of the damage, the restorer chooses between cleaning with purified deionized water and cotton sponges, or using dry cleaning techniques. After this intervention, the banner is ready for its further representative use.
Conservation with minor restoration interventions
If the banner's embroidery is damaged on several places, e.g. loose or severed threads, further and more extensive intervention from the restorer is required.  The main goal is to fix all the flaws, and above all, to avoid further damage to the banner.
Banner restoration
"A severely damaged banner undergoes the full treatment of our restoration work," says Tomáš Pokorný from the company Alerion. The duration of the restoration always depends on the degree of the damage. The result is a complete restoration report with photographs, in which every intervention is described in detail.  This report also contains recommendations for proper storage, display and manipulation with the banner. 
Creating a faithful reproduction of a banner
When a banner's state no longer permits further use due to the extent of wear or damage, we recommend creating a faithful replica while storing or displaying the original, after proper conservation, of course.  The reproduction of a banner usually takes 2-3 months of intense work. The amount of necessary time is primarily affected by the complexity of the original embroidery, the present state of the banner, or access to photos and documents about the original (sometimes the original graphic design of the banner is recorded and preserved). The most important thing in the process of reproduction of a banner is redrawing of the motifs of the historical banner to ensure the accuracy and faithful appearance of the replica so that it looks as the original at the time of its creation.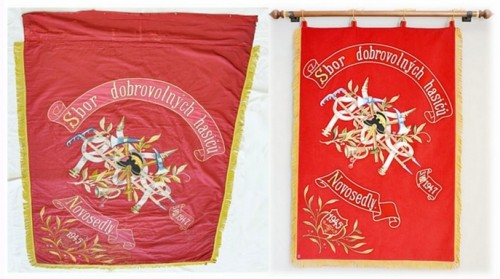 A historical banner as a foundation and inspiration for a new design of a banner
The representatives of your municipality, association, fire brigade or community may choose some of the motifs or interesting elements of your historical banner. Our experts will help you design and create a replica that will reflect your past, your present and your course into the future, while respecting your history, traditions and unique local characteristics, all done according to all heraldic conventions.