Personal coat of arms with business symbolic devices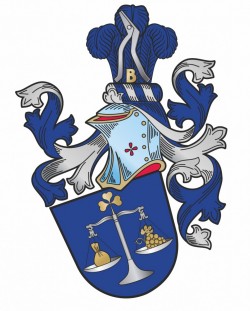 The canting arms of the weighing scales symbolize the owner's zodiac sign, added with a three leaf clover, a purse and a bunch of grapes, those are representations of his residence in Černošice (a three leaf clover in the municipal coat of arms), his profession of a financier (the purse with gold) and his fondness of wine (the bunch of grapes).
The two main heraldic tinctures (metal and color) in the coat of arms are silver (argent) and blue (azure), they are also the colors of the company (white and blue). In the crest (above the torse in colors of the shield), there is a pair of tinsmith's pliers, those being a sort of "badge" of the company, and capital "B" representing the company monogram. The crest - three blue ostrich feathers.
Blazon:
Azure, charged with weighing scales, argent, with one three leaf clover atop, or, on the scales purse dexter and grapevines sinister, or. Above the shield, is placed a helmet with a mantling azure doubled argent, above torse argent, azure, the crest thee ostrich feathers, azure, with capital B, or, between handles of tinsmith's pliers, argent.