Personal heraldic achievement of JUDr. Vlastimil Vlk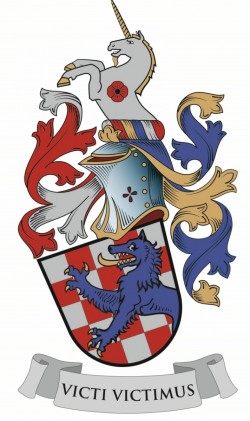 Blazon of the coat of arms:
Chequy argent and gules, demi-wolf rampant azure armed, or. Above the shield, is placed a helmet with a mantling azure doubled or sinister and gules doubled argent dexter, above torse argent, gules, or, azure, gules, a crest demi-unicorn argent armed, or, charged with field poppy, petals gules, ovary sable. Below the shield, a ribbon argent with motto VICTI VICTIMUS, sable.
The tinctures (silver/white, red, gold/yellow and blue) are the favorite colors of Dr. Vlk. They are based on the coats of arms of Bohemia and especially Moravia, where the owner comes from. Therefore, the shield is silver-red chequered. The charge of a wolf (i.e. so-called canting arms) is blue. The composition of the shield with the so-called demi-wolf (i.e. only the upper half of the animal is displayed) evokes the coat of arms of the Renaissance humanists Viktorin Kornel of Všehrd, which is also a logo of the association of lawyers in Všehrdy. The crest, the demi-unicorn (only the upper half), symbolizes the owner's fondness of history (ancient and medieval), fantasy and sci-fi. The charge of a corn poppy flower is, again, an allusion to the owner's last name (in Czech "vlčí mák" = "wolf poppy"), and it is also a popular floral motif.