Personal heraldic achievement of Mgr. Milada Prokopová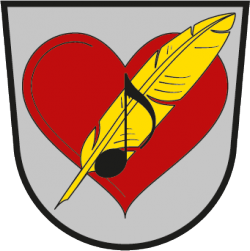 Blazon of the coat of arms:
Argent, a heart gules, on the heart quill sinister, or, on the quill quaver, sable.
The bearer of the coat of arms (being a woman) chose to use only a shield without a helmet, a mantling, a torse and a crest of a so-called full display of an armorial achievement, which is very appropriate for a lady. The silver tincture of the shield is the bearer favorite color.
The so-called charge of a red heart symbolizes the charge of red heart in a symbol of St. Francis de Sales (the patron saint of journalism, the owner's profession), the charge also symbolizes the owner's (Slavic) first name, Milada, which means "lovely" / "young". The charge is also one of Mrs. Prokopová's favorites. The second charge of a golden quill is even more of a telling representation of journalism, and also, a figurative representation of her last name (derived from Prokop, a name of Greek origin meaning "a groundbreaker"/"ready"). The last charge is a black eighth note symbolizing the owner's love of music.