Personal heraldic achievement of Mr. Jan Dvořák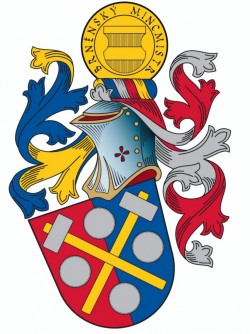 Blazon of the coat of arms: 
Per pale gules and azure, two coining hammers in saltire argent handles or, four coins argent. Above the shield, is placed a helmet with a mantling gules doubled argent sinister and azure doubled or dexter, above torse or, azure, argent, gules, or, azure, crest medal with Renaissance shield of coat of arms of Brno and inscription BRNĚNSKÝ MINCMISTR, or.
The original domain of the owner is geodetics, which is represented by the vertical division of the field on two equal halves (red and blue). His current profession is represented by two crossed coining hammers accompanied by four silver coins. His profession, minting, is also represented by the crest - a gold medal engraved with the coat of arms of Brno.