Lapel pins, medals, coins, awards and decorations
We produce lapel pins, medals, coins, awards and decorations from the initial design to the product itself, including presentable boxes for every piece. These products are characterized by the resistance of the metal with a variety of surface finishes that help create products of unique durability.
The production of coins, lapel pins, medals, awards and other products of this category is based on casting of several kinds of noble metal - copper, brass, zinc and aluminum. These beautiful souvenirs are manufactured with these finishes: matte/gloss, golden, silver, bronze or with patina, which guarantees an antique appearance. Through combination of materials and their processing, we make original and durable products that will impress.
Die cast lapel pins
An original lapel pin is valued as a collector's item or as a presentable gift. Trust our skilled specialists - we have more than 16 years of experience with manufacturing lapel pins. Thanks to our experience, you get a product with a long service life.
The properties of lapel pins from Alerion workshop:
The manufacture of lapel pins is done either by casting, or printing on a metal surface, with or without adding resin glazing. Lapel pins can be made with these finishes: golden, silver, bronze; with or without patina. Perfect colorization. The final glazing (resin), which creates a three-dimensional effect, brings out the colors, protects and enhances the overall value of the product. Every single lapel pin is packaged separately in a transparent bag.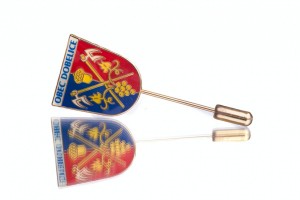 We usually supply die cast lapel pins with:
the coat of arms and the name of a village, town, township,
the emblem and the name of a fire brigade,
the logo of a company,
the emblem (logo) of a club or an association.
Pin attachment options:
classic long pin (stick pin) with a pin clutch for safe use
pin with safety butterfly clutch (military clutch)
Coins
Cultured, prestigious, universal. These are the characteristics of a souvenir whose message is larger than its own size. The coins are manufactured in various thicknesses and diameters, with a motif on one or both sides. The coins from our production belong to the first-class and highly regarded works.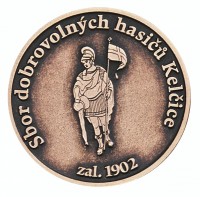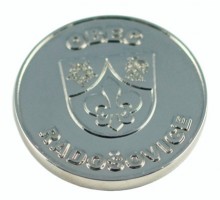 Medals
Reward best performances, achievements and merits with precisely crafted, custom-made medals. You will get a highly presentable symbol that will be appreciated by prize winners on both regional or international levels thanks to the variety of finishes such as golden, silver, bronze, with or without patina. The manufacture of medals is a a commitment to the future laureates for us and that's the reason why we work with careful precision. Our manufacture of medals begins with initial design and ends with delivering a presentable product for which we can provide an appropriate box. Medals can also be made with a slot for tricolor or other decorative band. This way, winners will receive a truly fine prize.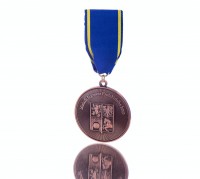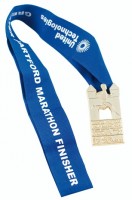 The production of the medals:
Single or double sided medals with different or same graphics on obverse and reverse.
Depending upon your wishes, we can adjust the thickness or the diameter of the medal.
Selection of medal bands.
Awards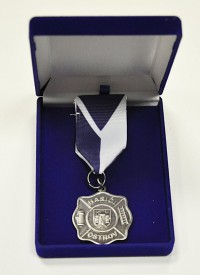 People desire to be awarded. For their work, for bravery, for outstanding contribution to society or the community, to which they belong. Awards are mostly given at important events and they become a permanent reminder of these significant moments.  Medals, decorations and plaques, precisely etched into metallic materials, they have weight, they are a proof of their importance and acknowledgment. Awards, plaques and decorations also have an undeniable collectible value that endures centuries. One of the most sought after items are medals on ribbons with a small ribbon bar, that will reward more than one prize winner.