Stickers, magnets and patches
There is a wide range of capturing and presentable souvenirs bearing symbols, coats of arms, flags and emblems that we can create for you. Promotional items and souvenirs will be that proverbial icing on the cake of your presentation, be it a presentation of your company, your town, association, sports club, etc.
It's these significant little big things that that will stick in minds of the public, your visitors, customers, or employees thanks to their every day use. We pay special attention to the quality of the production, so that this form of presentation can become a true reflection of the uniqueness of your institution.
Stickers
We produce custom-made high-quality printed stickers in a variety of sizes, cropped into any shape. So-called 3D stickers are a popular choice, these are stickers with glazing (resin) which creates a three-dimensional effect, brings out the colors, and protects the sticker against mechanical damage.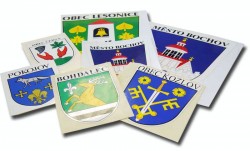 We offer complete realization from the graphic design to the printing of the stickers.
The stickers usually bear a company logo with a motto, the name and the coat of arms of a municipality, a club emblem, the name and the coat of arms of a fire brigade, etc.
Stickers in stock and readily available for sale on our e-shop here. We have a wide assortment of stickers in stock, such as flags of the world, flags of the regions of the Czech Republic, the lesser and the greater coat of arms of the Czech Republic, stickers of international organizations and Kometa Brno stickers (Brno's hockey team).
Magnets
Magnets, with magnetic back side for easy attachment to metal surfaces, are also an ideal form of brand or subject promotion. They can be manufactured in any shape and size, with or without glazing. Magnets are essentially laminated vinyl stickers glued to magnetic foils. We recommend glazing the magnets, creating a 3D effect and making the magnet more durable.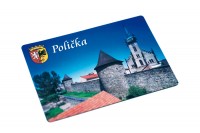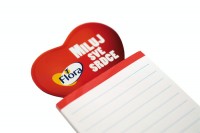 Patches
Patches, shoulder sleeve patches, text patches and other similar products express the wearer's affiliation to a particular community, group, company or a territory. Patches and text patches are usually printed on glossy satin with stitching along the edges, however, high-quality embroidered patches can also be supplied.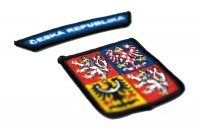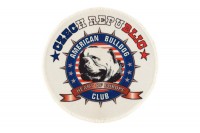 We can create both small and larger sizes, maintaining the quality of details, the overall design and the appearance of the patch. Based on the intended size and the motif on your patch, we will recommend the method of production and an appropriate size. Thanks to modern technology, we can make the patches with various rear sides, for iron-on patches, for sew on or velcro attachment. 
We usually make patches for: businesses, fire brigades, gamekeepers, fishermen, the army, the police, etc.
We make patches with two production methods – printed and embroidered patches. 
Printed patches - printed on quality satin, lush with effective gloss, the patches are stitched along the edges for more presentable appearance and reinforcement.
Embroidered patches - made with thousands of tiny stitches, based on the size of the patch, the proper embroidery technique is chosen (applied, combined or full embroidery).  Even this kind of patch is stitched along the edges for reinforcement.
A ceremonial uniform without proper patches is as plain as a pikestaff. No other symbol, besides embroidered ceremonial banner and flag, will not say so much about your affiliation to a country, unit, or an association as these seemingly
inconspicuous accessories. Thanks to the precise satin printing or embossed embroidery, these custom-made patches truly become the pearls of every uniform.