Oval signs for villages, cities, towns
This type of enamel sign has a convex (bulging) shape, and it is one of our most beautiful enamel products in our selection. The surface is covered with a protective coating (corrosion protection) that provides a long-term protection against the elements. Each sign is fitted with four mounting holes for secure attachment with screws.
Bet on beauty that will last for decades. If you order a larger quantity of ovals, you will get better prices. It doesn't matter if the texts are different on each sign, only the coat of arms must remain the same. The size of the enamel oval sign is 67x52 cm.
Basic types of municipal oval signs
enamel oval sign with a coat of arms and the name of a village/town/township: on the sign there is a coat of arms of a municipality and the name in capital letters: VILLAGE/TOWN/TOWNSHIP NAME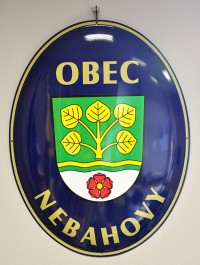 oval welcome sign with a coat of arms and the name of a village/town/township: on the sign there is a coat of arms of a municipality and the text in capital letters: WELCOME TO VILLAGE/TOWN/TOWNSHIP NAME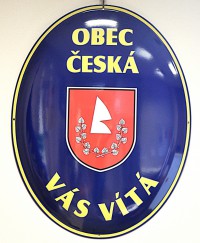 enamel oval sign with a coat of arms, the name of a village/town/township and the name of an institution: on the sign there is a coat of arms of a municipality and the text in capital letters: VILLAGE/TOWN/TOWNSHIP NAME + ELEMENTARY SCHOOL / NURSERY SCHOOL / LIBRARY / POLICE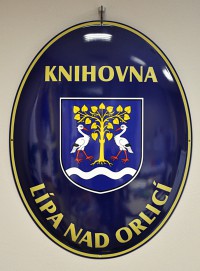 enamel oval sign with the greater coat of arms of the Czech Republic and the text OBECNÍ ÚŘAD [MUNICIPAL AUTHORITY]
 

enamel oval sign with the greater coat of arms of the Czech Republic and the name of an institution: on the sign there is the greater coat of arms and the text: ELEMENTARY SCHOOL / NURSERY SCHOOL / LIBRARY / MUNICIPAL POLICE / etc with the possible addition of the NAME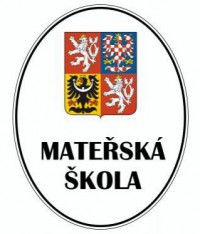 enamel oval sign with the greater coat of arms of the Czech Republic without any text: on the sign there is only the greater coat of arms across the entire surface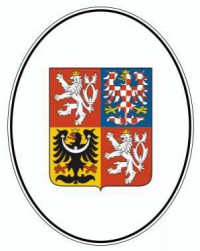 enamel oval sign with a text only: on the sign there is only the text: on the sign there is only a text across the entire surface ELEMENTARY SCHOOL / NURSERY SCHOOL / LIBRARY / MUNICIPAL POLICE / etc
Recommended color combinations
dark blue oval with gold letters and line
white oval with a black letters and line
white oval with blue letters and line
white oval with red letters and line
red oval with white letters and line