The story of success
In 2000, when Tomáš Pokorný founded the company Alerion in Bystřice nad Pernštejněm, it was his ancestors who were on his mind. His grandfather Ladislav was a shoemaker, his grandfather Jaroslav was a carpenter all his life and he could tell amazing stories about his work for hours. And his great-grandfather made hand-carved toys in a small town in east Bohemia, famous for its traditional handcrafts even today. Tomáš Pokorný had hoped that he had inherited the skill and business acumen of his ancestors, and that his business would be a success. We can say now that his hopes have become a reality. Today, the company named after the mythical heraldic beast employs more than 30 experts, among whom are embroiderers, stencil makers, seamstresses, restorers, woodcarvers, enamelists, medal makers, printers, graphic designers and heraldists. The company workshops are located in several places in Moravia and Bohemia but the seat of the company remains in Brno.
Tell us how flags began to write your life story.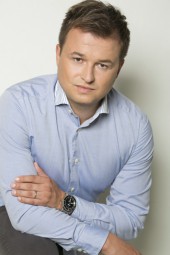 With a bit of an exaggeration, I could say that it had begun in my early childhood, when we used to play soldiers with my friends. Not only did we use to make swords, but also flags out of old bed sheets, on which we would draw a lion. Back in high school, my favorite subject was history, although, I had decided to study the law later on. However, my passion for history stayed with me, particularly my interest in heraldry (a discipline dealing with the design, display, and study of armorial bearings, one of so-called auxiliary sciences of history). At that time, Czech towns and villages had been allowed to use their symbols - their coat of arms and flags, which was a significant authorization granted by the Act on municipalities. However, they did not how know such a symbol should look like, how to design one and how to legally acquire it. Having our knowledge and experience, me and my classmates from high school (who studied history in the meantime) decided to start working and designing coats of arms and flags for our first customers among the mayors. True, after 16 years, the company had grown and expanded, we offer more in our services in heraldry and our assortment of products is also significantly wider. Now, our product catalog has more than 150 pages, containing everything about flags, banners, coats of arms, emblems, lapel pins, flagpoles, medals, coins and all the related products.