Why choose Alerion?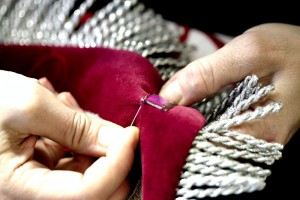 "The art of hand embroidery is passed down from generation to generation since the times of medieval nunneries. The secret of this extraordinary craft was preserved for us to this day."
Embroidered flags and banners from our workshops are handmade, using traditional handicraft while employing high-end technologies and modern materials.
Our embroiderers have mastered even the most difficult embroidery techniques, one of these is the so-called crewel embroidery, which makes every banner an impressive work of art.
Production of stencils and transfer of motifs on the material is arranged with traditional manual technique of puncturing and coloring with so-called ink of Rotterdam nuns.
Ceremonial flags, banners and ribbons from our workshops are made using only the highest quality satin and velvet with high grammage and full intense colors, with rich height and thickness that won't worn out even after years of use. Our velvet is similar to those that were once used for manufacture of theater curtains. The embroidery is done using only the best silk.
Every banner from one of our workshops consists of specially designed stiffener, so-called corpus of the flag, which forever ensures the banner's dignified and presentable shape when attached to the flagpole. Beautiful tip-shaped banners are a testament to our precision and quality. Our banners are tailored to your needs, just as a suit. Our banners don't sag or crumple. The banner remains permanently presentable and worthy of its significance.
Presentable accessories are an essential part of our workshops' embroidery production: flagpoles, crossbars, stands, finials, wall-mounted crossbar holders, flag bearer belts and gloves, protective cases and transport bags. We use Czech and Moravian timber for the creation of our flagpoles, for example oak from the area of Buchlov woods.
We guarantee that every symbol is designed and created according to all legal and heraldic regulations and international conventions.
We offer 20-year warranty on our embroidered symbols, the longest warranty on the market.
The lifetime of our embroidered products is 100 and more years.