Accessories
Sophisticated high-quality banner accessories (flagpoles, stands) are the proverbial icing on the cake that will ensure uniqueness and dignity of your embroidered symbols. The range of our products, such as flagpoles, flag stands, wall-mounted crossbar holders, handles, ornate pole tops, flag bearer belts and gloves, is really wide.

All our accessories are adapted to their respective products from our workshops, everything fits together perfectly. Using the accessories will therefore result not only in perfect functionality, but also professional and dignified appearance of your symbols. For example, we usually make custom-made flagpoles for Slovakia where the poles are traditionally made longer than usual, the length of such an extended flagpole measures up to 310 cm. 
Basic flagpole and basic flag stand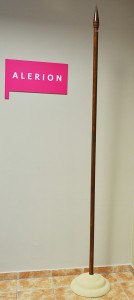 The basic flagpole is suitable for all embroidered ceremonial flags, especially for those in size 100 x 150 cm. Sufficient stability against tipping over. The pole is made of soft wood with multiple coats of varnish for either a dark brown or light brown finish, the pole top is the same color. The tip of the flagpole can also be made in golden color. The dimensions of the basic flagpole: length 250 cm, diameter 4 cm.

A basic flagpole is compatible with a basic flag stand, which is made of artificial stone with a sandstone surface finish. The dimensions of the sandstone flag stand: diameter 40 cm, height 20 cm. The weight of the flag stand is 20 kg.
Two-piece flagpole with a wooden stand
Two-piece flagpole made of hardwood is fitted with a traditional metal mechanism for attaching a ceremonial flag. Available in light or dark finish and with golden or silver fittings. Pole length 250 cm (can be dismantled in 2 parts), diameter of the pole 3,8 cm, diameter of the rod in the mechanism 8 mm.

Varnished wooden flag stand is also available in dark brown or light brown finish. This type of round base can be made with one, two, or three holes for insertion of flagpoles, in an optimal angle. The diameter of the wooden stand: 40 cm, height: 20 cm, diameter the hole: 4 cm. Weight: 20 kg.

The poles are made to order, according to the client's request. We often make poles with extended length, e.g. for Slovakia where the pole is traditionally longer than usual, the length of such an extended flagpole measures up to 310 cm.

When you attach a flag on such an ornate flagpole, you will achieve the most presentable and dignified appearance of your symbol.
Flagpole finials
Every flagpole should be crowned with a decorative ornament with a symbol completing the impression.  We can create various shapes of the flagpole ornaments in our workshops according to your individual request.  The finials for banner staffs are created according to graphic design approved by the customer. The manufacture of the finials is based on traditional handicraft techniques, i.e. (wood) carving and engraving (metal).  You can choose between 2 materials: metal flagpole ornament, wooden flagpole ornament.

The standard shape of the flagpole finial is a cone-shaped tip, but we can also make a flagpole ornament in various shapes, e.g. a Czech lion, Moravian and Silesian Eagle, falcon, fireman helmet, fleur-de-lis, or any other three dimensional motif of your own choosing.  There's no limit to your imagination, the only limitation are the manufacturing techniques.

The flagpole top has the approximate dimensions of 23x18x3 cm, adding to the 5cm base of the ornament.
Rain cover for banners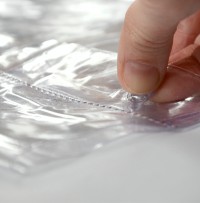 A transparent cover is a necessary accessory in case it rains during a ceremony or a festivity. Water-resistant cover protects the flag or banner attached to the flagpole and thus provides optimal protection of an embroidered symbol from the adverse weather conditions. Material: transparent PVC, size 110x153 cm, seamless joints, snap fasteners, the width of the sleeve for the attachment on the pole is 7 cm.
Transport bag for embroidered symbols 
Transport bag for an embroidered ceremonial banner or flag protects 
these embroidered symbols, especially when rolled properly.  The size of the transport bag for a embroidered banner or flag 145 x 18 cm. The bag is made of durable PVC and has a longer handles for easy handling.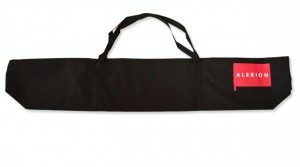 Leather belt for flag bearers
Hand-stitched presentable leather belt for flag bearers made of thick dark or light cowhide, beautiful contrast stitching with long stitches, a special cut for comfortable carrying and holding of a banner on a flagpole. Universal size with adjustable length over the shoulder and back.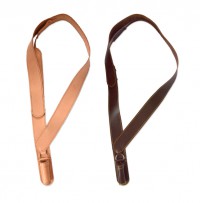 Flag bearer gloves
Gloves from our selection will surely be appreciated by every flag bearer.  You can choose between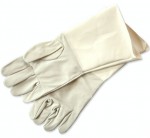 these variations: short leather gloves, long leather gloves and textile gloves. Leather gloves are available in a universal size, textile gloves in selected sizes. Even flag bearer gloves are one of products that add to your upcoming festivities' appropriate and presentable impression and raise it to a breathtaking ceremony.